ASPCA: Animals Saved, Pets Cared About
Ning Network Spotlight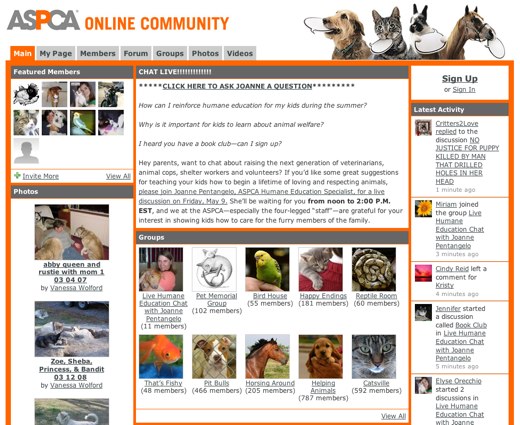 The ASPCA Online Community is a network for and about the welfare of animals.
Members are passionate and show that passion through their forum discussions. Discuss current affairs such as the Marine, puppy throwing incident or simply gathering together to appear on The Today Show. Discuss hot button issues such as animal cruelty or give some advice about inconsiderate neighbors.
Join one of the many groups that have brought members together. Relive the happy times you had with your beloved pet in the pet memorial group or tell your happy story about the abused animal who has a happy ending. Maybe you want to talk about the type of animal you love. In that case, take a look at the catsville, dogsville or the reptile room!
Members post their absolutely adorable and heartwarming photos and videos of their pets and animals. Take a look at animals getting cozy, comfy, suckling, or simply not existing. Learn about animal organizations, watch them talk to each other or watch an animal placement ad.
Anyone who has a soft spot in their heart for animals will fall in love with the ASPCA Online Community.