Big Light
Ning Network Spotlight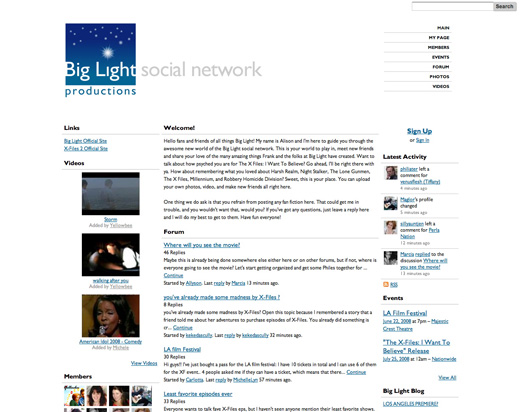 If you're a fan of the television programs The X-Files, The Lone Gunmen, Millennium, Harsh Realm, Robbery Homicide Division or Night Stalker, stop on by the Big Light Social Network.
Created by prolific writer/producer Frank Spotnitz (a major force behind all of the shows mentioned above), the network is a place for his fans to discuss past projects, as well as gear up for July's theatrical release of The X-Files: I Want to Believe.
The network's already thriving, with over 1,000 fan-contributed photos, dozens of X-Files-inspired videos and an extremely active forum. Frank has even told members to keep an eye out for upcoming "special content" in the future, so swing on over!