Bloggers, find your mate
Ning Network Spotlight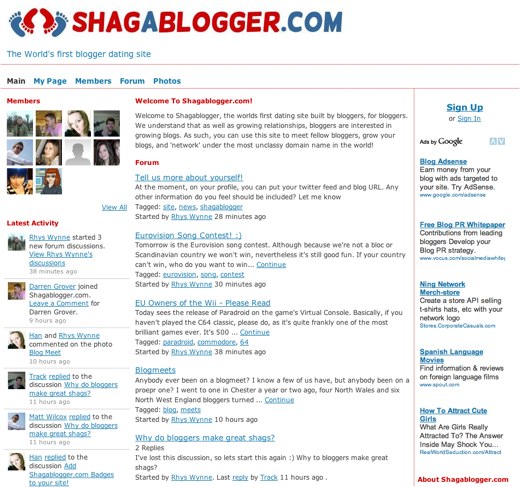 Blogging has revolutionized the way we communicate with each other — at least, we like to think so on this blog. Thanks to blogging, people around the world can communicate with each other about politics, sports, pop culture and more.
What about a place for bloggers from across the world the meet each other? With bloggers often posting 24/7, free time is short for bloggers, as the New York Times pointed out last month. So why even leave the computer?
Meet the worlds first dating network built by bloggers, for bloggers — Shagablogger.com.
Shagablogger understands that as well as growing relationships, bloggers are interested in growing blogs. As such, members use this site to meet fellow bloggers, grow your blogs and 'network' under 'the most unclassy domain name in the world'. If you're interested in seeing just how these bloggers get down check out the forum section where members post tips about blogging, dating and relationship advice.
Even if you're not looking for that special someone it's a great way to network with other bloggers and learn the do's don'ts of the online dating game. If that tickets your fancy, check out the Shagablogger network today and meet that special someone!