Burst of creativity at CreateRhodeIsland
Ning Network Spotlight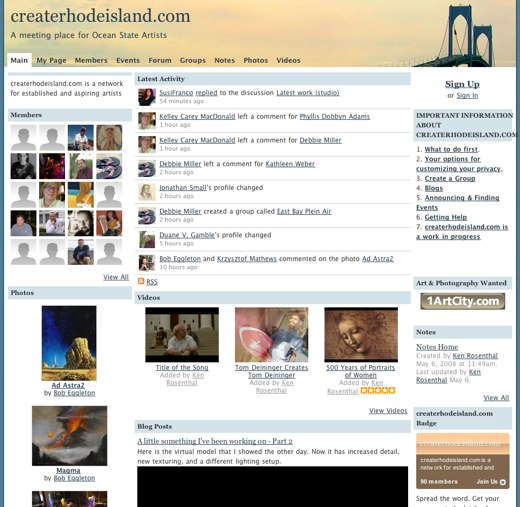 From Providence to Cliff Walk, Rhode Island is a beautiful place. The home of RISD full of talented artists capturing its beauty and expressing themselves with sculpture, paint, photography and more. Create Rhode Island is a forum for these artists to share their work, get honest critique from fellow professional artists and find local outlets to get their work into the world.
This tight-knit community gives artists in America's smallest state a convenient way to discover more about art in their area. Artists get to interact with people who use the same medium as they do, like in the Digital Art group, where artists focusing on digital-media design can come together and share insights, techniques and software advice.
For those new to the social-networking scene, Network Creator Ken Rosenthal has even put together a getting started guide, highlighting "what to do first" and how to get help. It's helping members get settled and find their home on the network. 
Standard features are used well in this network, like events. Members have loaded the network with art-related events in the Ocean state, making Create Rhode Island a great place to find local venues for showcasing or viewing art. It could soon become the place to find out about what's happening in the Rhode Island art scene. The photos section is where many artists highlight their work. And the forum has interesting discussions to help burgeoning artists get their grounding in the the Rhode Island community. 
But it's hard to talk about art without seeing. Check out some piece highlights that will whet your palate.
But this is just the tip of the iceberg! Check out the rest of the artistic creations. Who knows? One of the members might be the next Picasso, and you will be able to say you saw him or her on Create Rhode Island.