Central Florida's Doterati
Ning Network Spotlight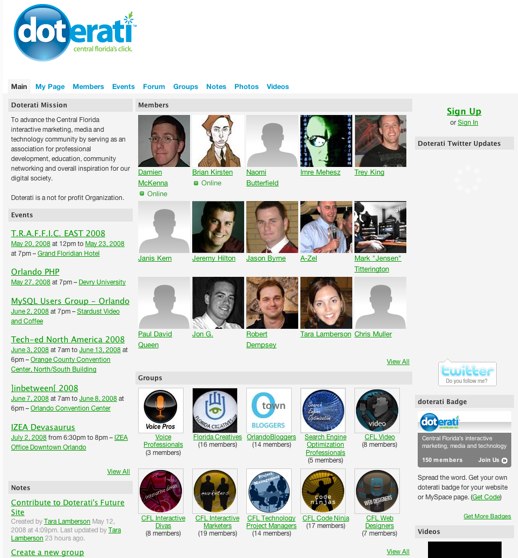 "What type of dot are you?" Whether the answer is .com, .org or .mobi, there is something for you at Doterati, a network for Central Florida's social media and technology enthusiasts.
Network Creator Ted Murphy uses this catchy profile question to get members into the network. He is a serial entrepreneur who has founded six companies since 1994. He lives in Apopka, Fla., about 30 miles northwest of Orlando, and created Doterati's social network to "advance the Central Florida interactive marketing, media and technology community by serving as an association for professional development, education [and] networking."
Doterati is an organization of technology, media and marketing leaders in the Central Florida, and the Doterati network is their social-networking home. The group can already claim success in gaining acknowledgement for Orlando's rising status as a hub for innovation. Just this month, Fast Company named Orlando as one of the world's best cities for innovation — right up there with Doha, Qatar and Seattle.
With more than 150 members, he's certainly succeeded! Members take part in groups for Orlando bloggers and search engine optimization professionals. In forum discussions, members share advice on everything from the best place to hold a business meeting to using agile development principles to save money.
So if you live in Central Florida and love technology, you too can become part of the Doterati!