Travel Back in Time with Living History Worldwide
Ning Network Spotlight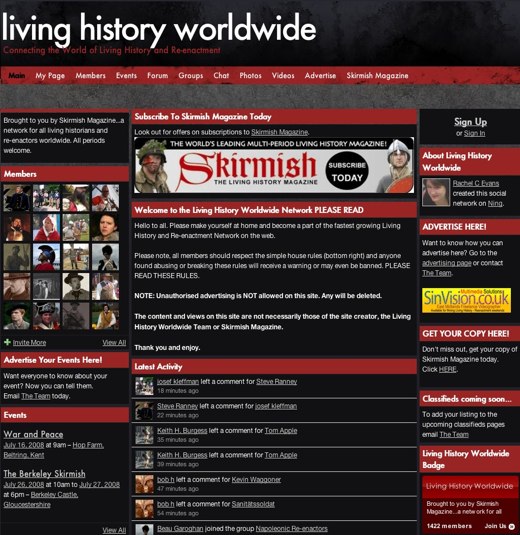 Living History Worldwide is a social network for world history re-enactors and living historians, covering the last 3000 years. Rachel C. Evans, editor of a popular Skirmish Magazine, is also the Network Creator of this fast-growing social network of 1500 members. Read through some of the creative profiles members created, detailing their passion and love for history of the past. One member you'll find hanging out at this social network is the Young George Washington himself, who celebrated his 276th birthday on February 22 or "Feb. 11 by the old calendar". He is also an active member of three groups, Soldiers of George III, 1760-1820; 1680s to 1720s – From Continent to Colonies and Seven Years War.
Groups on this social network are where you see history truly comes to life covering periods like the Wild West, Civil War, World War I and II. The forum is where members share costuming tips to stay authentic within the historical period and update one another on up and coming events. One such event is the Berkeley Skirmish, at Berkeley Castle, Gloucestershire in England, a re-enactment event of the medieval time for those who want to partake in battles and jousting activities.
So leave 2008 behind and travel back in time with Living History Worldwide and check out more than 6000 photos and hundreds of historical re-enactment videos.