Exploring frontiers of space
Ning Network Spotlight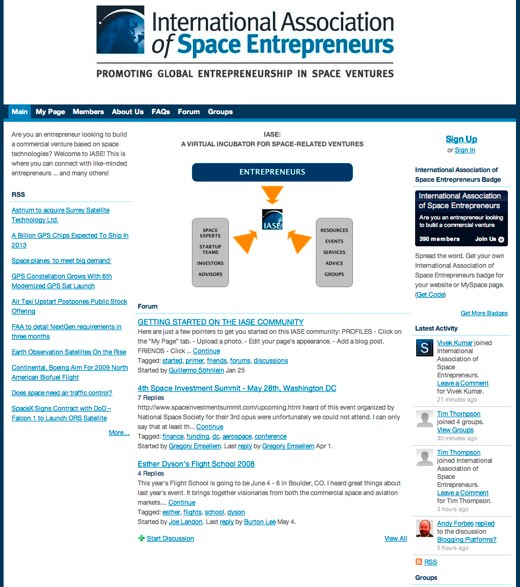 Space is a fascinating, vastly unexplored territory. And there is no shortage of individuals and companies interested in opportunities in commercial space ventures. The International Association of Space Entrepreneurs provides a "virtual incubator for space-related-ventures." This network is a central meeting place for investors, advisors, startup teams, and space experts.
IASE primarily focuses on sharing knowledge related to space ventures, as well as information regarding events. The two features best used for this purpose are the forum and groups. Groups allow like-minded individuals to find each other in order to promote specialized topics such as Space Art and Space Law.
The forum is widely visited by all members. It has a number of categories to help partition topics. Events is popular, with the upcoming 4th Space Investment Summit in the nation's capital.
If you want to learn more about IASE itself, be sure to visit the FAQs. And if it piques your interest, be sure to join the International Association of Space Entrepreneurs!