Eyoked: Where Christians click
Ning Network Spotlight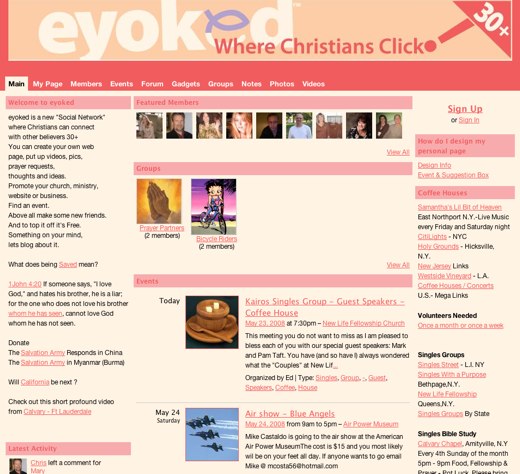 With an engaging layout, great header and logo, and loads of content the Eyoked network is the home where Christians can connect with other believers 30 and over. Members at Eyoke are involved with all aspects of single Christian living from prayer groups, dating, and more. The right side of the page is filled with a feed updated for volunteers, single groups,  bible study groups and more.
Members promote their church, ministry, Web site and business using the forums and the notes feature. The events section is filled with fun, wholesome events for Christians. Looking for something to do? There are a number of events listed aimed at single Christrians, such as a spectacular Hudson River Dance and Cruise.  Check out the Oasis Singles Dinner Fellowship featuring soul stirring musicial guests Roar and Silje Fjelde.
If you're ready to meet your future Christian mate, check out the Eyoked network today!