Film and media come together at Filmixer
Ning Network Spotlight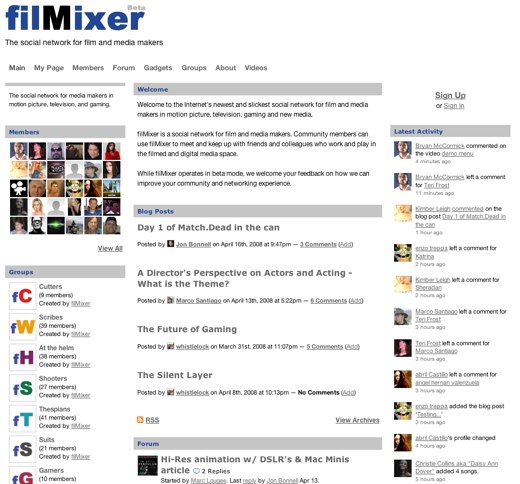 FilMixer is a network that brings film and media makers together to meet like-minded professionals and help people keep up with former colleagues and friends. Launched in March, the network has attracted more than 500 members in less than two months!
Network Creator Marco Santiago is a filmmaker himself, currently finishing post-production on his documentary film Into the Border. Members come from all parts of the film industry and include producers, actors and even the Phoenix Film Office.
Profile pages are put to good use to promote projects and highlight recent work. Members have taken advantage of the profile page text box to include press kit images and videos. The music player is used by composers to showcase audio clips. Members actively comment on each other's pages to share ideas and support each other in what can be a very competitive business.
Of course, given the focus of the network, it's no surprise videos is another popular feature with numerous demo reels and trailers posted by members. In addition, some members post more complete work, like this short feature on the best ventriloquist in the world.
If you are interested in media and film, throw yourself into the mix at filMixer!