Finding common ground at mepeace
Ning Network Spotlight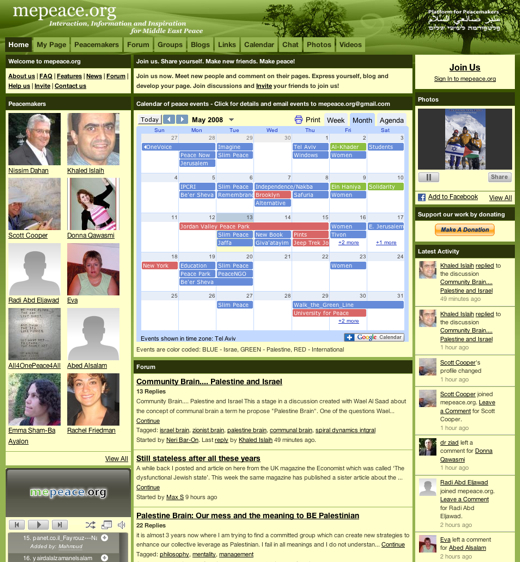 mepeace.org is a network focused on interaction, information and inspiration for peace in the Middle East. It is an online destination for people on all sides of the issue to share their viewpoints and organize themselves in the pursuit of peace.
The network was created by Eyal Raviv, an Israeli who felt compelled to create a platform where his members from around the world — or Peacemakers, as they're known on the network — could interact and collaborate. By his own estimate his network has been a destination for Peacemakers from 120 countries around the world.
The Peacemakers on mepeace.org ensure that there is an active exchange of ideas. The forum features discussions on a range of categories such as specific Middle East conflicts, like Israel and Palestine, to broader topics like conflict resolution. The groups feature operates as an online meeting place of peace-oriented organizations. An example of these organizations are Combatants for Peace, a group for ex-soldiers from Israel and Palestine who are united for peace, Russian Friends of Mepeace, for Russian Peacemakers, and Standup for Peace, a two-man comedy troop who uses comedy to advance their message. The photo feature is used to show off pictures of the Peacemakers attending conferences as well as to share inspirational photos.
Raviv has worked hard to get the most out of the Ning platform. He has utilized the pages feature to add a number of custom tabs for his members. On one of these tabs he has embedded a third-party chat widget from Meebo and on another he's added a list of useful links. To help new members he has used a text box on the top of the Main page that features links to an About page and has written his own FAQ.
If you would like to share in the discussion to advance Middle East peace or would like a great example of how to create and foster an acive network, point your browser to mepeace.org.