For Jane Goodall, it's not monkey business
Ning Network Spotlight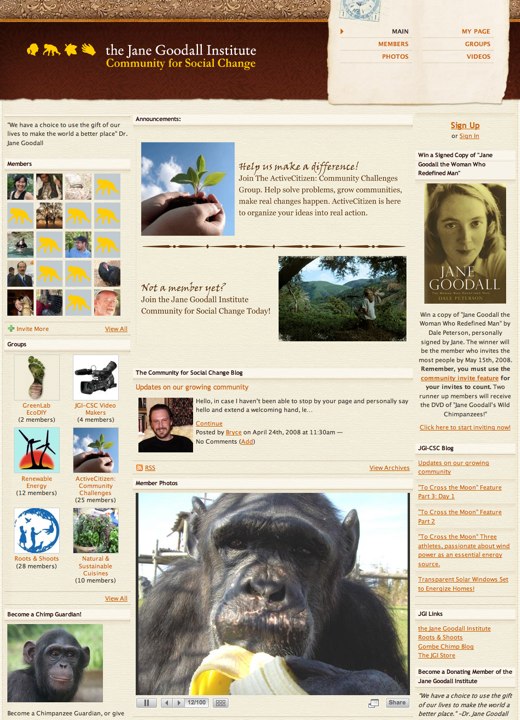 On Earth Day 2008, the Jane Goodall Institute launched their social network, the Jane Goodall Institute Community for Social Change, on Ning. A few weeks later, they have almost 400 members signing in from all corners of the globe!
Goodall is a world-renowned scientist, best known for her extensive fieldwork with chimpanzees. The Jane Goodall Institute, founded in 1977, is an environmental NGO that focuses on primate habitat conservation, awareness and research.
Although the 74-year-old Dr. Jane Goodall does not spend much time on network, she answers the many questions that members send her way, in group responses. Recently, she has even started mentioning the network in her lectures!
Network Creator, Bryce, who also serves as the webmaster for JGI, created the network after taking a look at Ning for his cooking group. After a quick "let's just do it!" he and two other co-workers set out to create the network.
"A lot of people at JGI don't know about [the network]," he laughs. "What I have found at other offices have found it and joined, while the main office in the US [hasn't]."
But this is no indication to the growing popularity of the network. Only three weeks after the launch of the network, the JGI Community for Social Change boasts 370 members. Even the director of development at JGI was shocked!
The members are so excited about this social network that they actively take part in groups and have taken advantage of the "edit the appearance of your page" feature!
Younger members take part in Roots & Shoots, a program that empowers young people to take action throughout a global network. Members of all ages take part in the ActiveCitizen: Community Challenges where groups of people are encouraged to join together to make something happen.
Bryce remembers how the first 60 or so members were mostly between the ages of 15 and 21. Then, an older member invited more than 1,000 individuals and single handedly changed the demographic of the network. Today, the network's age group varies widely.
Photos and videos are a fantastically popular feature, where members post their stories, experiences and ideas.
Bryce has great hopes for the network. He hopes that he can engage members and involve them in the Institute as was never before possible. "In the past, it's been about them giving us their membership dollars and us telling them stories," says Bryce. "In this way, we can collaborate with them. We can share information and give tips on ways to live. It gives us an educational platform and we can engage them like we have never been able to do before!"
Mich like Goodall's beloved chimpanzees, we will, no doubt, continue to see the JGI Community for Social Change grow and evolve.