Forget Surfing, Canoe the Internet!
Ning Network Spotlight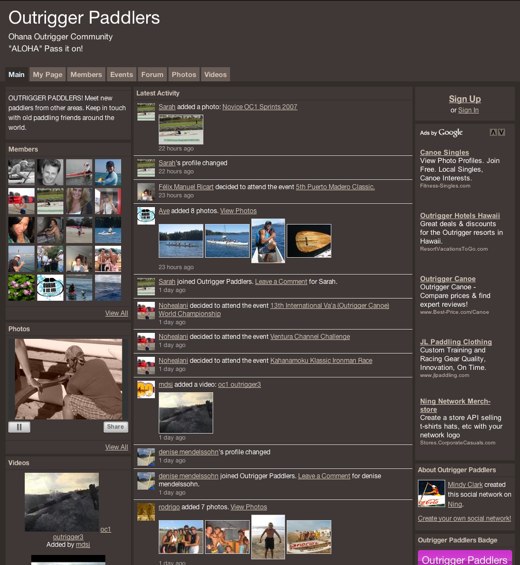 If you love classic water sports and island paradises then you are probably pretty familiar with outrigger canoes.  These are the beautiful boats with stabilization floats on the side, well designed for travel in choppy waters.  This ancient modification to the classic canoe also makes these boats perfect for long distance races or sail canoeing.
Outrigger Paddlers is where lovers and paddlers of these fantastic boats can find camaraderie off the water.
The events page is full of upcoming races all around the world!  These events attract interest from one of many tight knit localities. Groups of paddlers exist in Australia, Argentina, British Columbia and — even near Ning's home — in the Bay Area, among many others.  Paddlers looking to join local groups, find paddling partners, or just chat about the sport are welcome on the forum page.
This network is a great place for everything having to do with outrigger canoeing.  It has been around for about two months and is growing faster than the canoers can paddle!  Check out some of the great pictures on the photos page.  These beautiful photos will help you get a feel for why members are so passionate about their sport. Dive in, and whet your whistle; the water's fine!