Forget Vegas: it's all about Reno Baby!
Ning Network Spotlight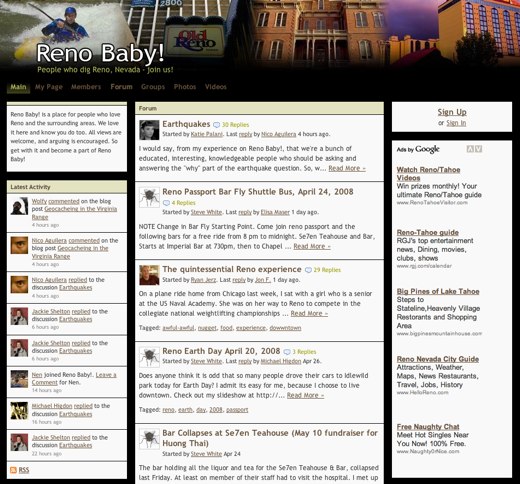 Reno Baby! is a network for those who love Reno, Nev. and its surrounding areas. Join members from all around the country who have fallen in love with the city and nature of Reno.
The Network Creator, Ryan Jerz, chose the name of the network while making fun of people who yell "Vegas, baby!" He hands the ownership of the network over to the members, stating that "my picture is over there saying I started it, but that's just because I was the first one here."
Members of the network discuss everything about Reno and its surrounding areas on forums. Find out what members think is the quintessential Reno experience, what the cheapest eateries are or why earthquakes are happening.
Members are active in posting photos and videos. Photos showcase the beauty and videos highlight all areas of life around Reno and its surrounding areas. Watch University of Nevada, Reno students try to create a new tradition, volunteers work in the Keystone Trail Project or avalanche rescue dogs at work!
Reno Baby! is a fantastic social network for all who love Reno and the beauty that the area has to offer.