Get your blues at LiveBluesWorld
Ning Network Spotlight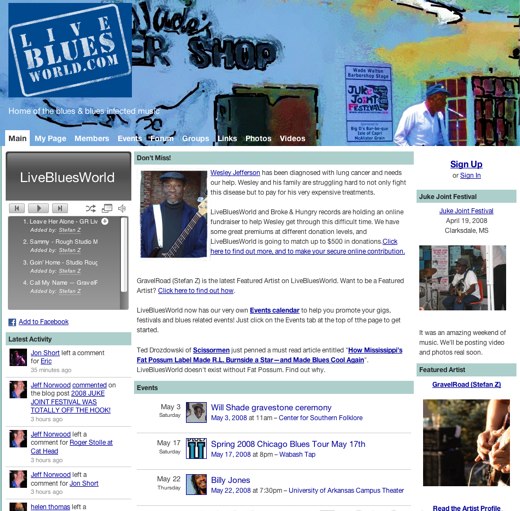 LiveBluesWorld is a social network that currently houses close to 400 members of blues music lovers. They've come to promote their work, share ideas and discuss the blues music industry or simply just "talk about the blues".
LiveBluesWorld is a great place to promote the blues music scene and blues musicians who can apply to be selected as a featured artist by sending in a bio and samples of their work. GravelRoad is the current featured artist whose music is being showcased on the social network's music player.
Recently, LiveBluesWorld announced some sad blues-related news: Wesley Jefferson, who has been playing blues music for the last 40 years, is currently battling lung cancer. Passionate for blues music, according to a member, he is "still out there gigging and working hard despite some pretty tough chemo treatments". Another member described him as "a true blues man. He's a living link to another time and place." A forum discussion and a blog post were created to reach out to members for online donations as well as two benefit shows to help support his family with the raising medical bills.
No music social network would be complete without events, and LiveBluesWorld has certainly made excellent use of this feature. The events calendar has several blues music venues lined up all the way through November. One such event that recently took place was the Juke Joint Festival, an annual event that "combines an international "blues festival" with a community-minded "small-town fair". Another big blues venue that is coming up is the Spring 2008 Chicago Blues Tour where buses will be taking attendees to live blues venues throughout the city of Chicago.
So if you're a big blues fan or would like to learn more about this reviving music genre, come check out hundreds of photos and videos like the one below at LiveBluesWorld.
Guy Davis, singing the blues of "Things about Coming My Way".