Talking to Zoosse
Ning Network Spotlight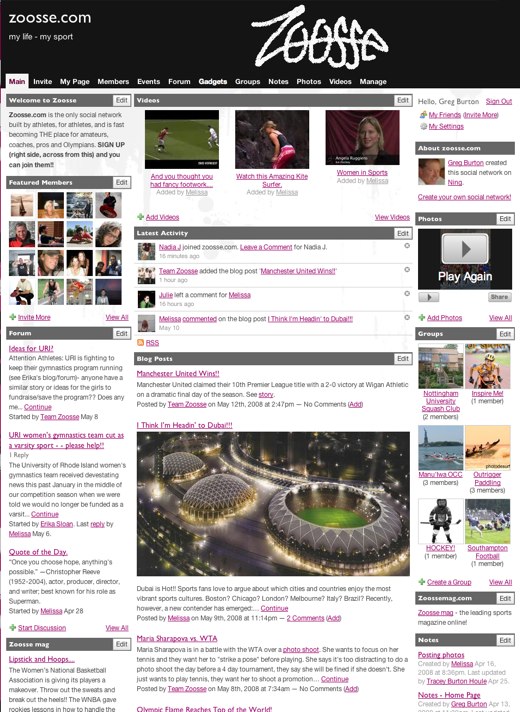 The Zoosse network is dedicated to competitive athletes across the world, giving them a chance to communicate and network during their training for competition. By solving the athletic, community, and equipment needs of this 30 million member population (the top 20 percent most avid athletes in the nation), the Zoosse networks hopes to become a very important and appreciated institution in sports. We chatted with Network Creator Greg Burton about his network and the future of Zoosse:
How did you come across Ning and decide to create your own social network?
Philip Letts, the founder and managing partner of VisualRevolution, is our web guru and my mentor. He is also the Network Creator of a number of Ning Social Networks, such as MyHamptons, Buncut, VisualRevolution, and Irevolution. His firm is working with Zoosse to make it 'the place athletes get together online'. He recommended we use Ning as the platform for Zoosse.
What is your favorite aspect of being a Network Creator?
Definitely, the interaction with our users. The Internet is like a big, real-time street fair. You know immediately if you're doing something right, and you know even faster if you did something that made you lose traction.
What Ning social network feature do you like best or find very useful?
Well, I don't have just one. Our users are frankly getting spoiled on Ning, because of the great features. The new Events feature is going to turn out to be a big win for our users, but I don't think many of them even noticed that it has been added yet. The photo and video gallery features are great. And the profile page personalization system is awesome!
Has anything surprising happened on, or as a result of creating Zoosse?
We have had an ongoing debate as to who our First Adopter users would be. I knew we were tapping into the frustrations of athletes across all age groups and sports, but we needed to develop Zoosse's look and feel toward 15-24 year old athletes, due to a groundbreaking contract with a large college recruiting company that promises to bring us about a million 15-24 year old student athletes per year. This demographic is a key one for advertisers due to their access to discretionary income and their interest in adopting hip new products and services.
What we are finding, however, is that even with the youthful look and feel of Zoosse, our own First Adopters are definitely more diverse in age and sport played. The key characteristic that comes out within our population is the level of the athletes! With nothing more than word of mouth, and with just over 120 members, we already have one current Olympic Gymnast, one Olympic Triathlon Team hopeful, two past Olympic Team members, a number of pro athletes, and a bevy of top amateur athletes, across all age groups and sports.
My dream when I first conceived of Zoosse, was a social network filled with top athletes of all ages, and from all sports, who would come together to support each other and share each other's sports accomplishments. If it keeps growing like this, Zoosse will, on its own, make that dream a reality!! That's not altogether surprising, as it is how I thought it would happen, but it's immensely heartening!
How has having a social network on Ning helped your group or org/business?
We launched a prototype site at least three months faster than we would have, had we waited for our own developers to finish the site. This has given us an enormous amount of user knowledge, and has helped us to develop the next version in a much more informed manner. Most importantly, we are already building great goodwill, and are even beginning to "brand" the Zoosse name.