Getting in touch with Petbrags.com
People Profiles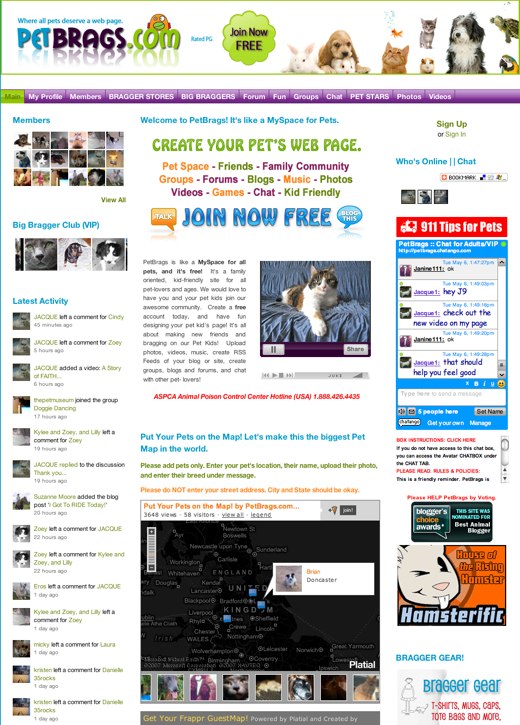 If you're a firm believer in every pet's right to a Web page, Petbrags.com is the network for you! A lot has happened since we last featured Petbrags. They've added more forum discussions, a live chat feature and pet stars that are popular on their network. We decided to get in touch with the original 'Bragger' herself — Network Creator Jen Marcum — and chat with her about the success of Petbrags:
Who are you and how did you come up with the concept of Petbrags?
I'm Jen Marcum (aka Bragger), a technology professional and entrepreneur for many years, from Birmingham, Alabama. I've been in technology for 20+ years, from gigs in Silicon Valley to Wall Street. I love constant brain stimulus with new business ideas, and especially creativity, pets and technology. What can I do when I grow up that will include all three loves? One day my brother called: "Hey Jen, why don't you create a Web site for pets?" Oh my, by George, I think we've got it! I had no idea of the significance of this "way of life", Social Communities. As I researched the market for the major players I felt there really weren't enough well known brands for all pets. Hmmm, what to name this new venture? Well, it's all about bragging on our pet kids. What about PetBrags? And PetBrags was born!
What made you decide to create a social network on Ning?
I got extremely lucky and found Ning in a search on Yahoo.com. I thought it would take a huge budget, a complicated business model, and months to get this new venture off the ground. But, much to my surprise and delight, Ning was there and could make it possible overnight. From the time the first thought of this venture entered my thoughts, and after brainstorming with my brother and a couple of business partners, coming up with the name, finding Ning–24 hours later, PetBrags was up and running. Just amazing how it all came to pass. And it absolutely would not have been possible without Ning.
What makes Petbrags so unique? (a) PetBrags is for all pets, any kind of pet species. (b) PetBrags is rated PG, and we are extremely committed to keeping the site a family-oriented, kid-friendly pet community. Bragger (The Pack Leader) is our mascot and protector. Bragger constantly monitors the site, keeping it safe and fun for all. PetBrags has a real family feel, a warm and friendly environment. And we have real pet-lovers. Our members love the fact that they can let their kids use their accounts and feel like they're safe. Additionally, we have active chat boxes/rooms that give that extra feel of warmth and community to our member's site experience.
What do people like most about making their own Web site for their pet? Well, let's face it. What do we love aside from our human kids, family and friends? Our pet kids! People love bragging on their pets. And PetBrags is the perfect place to do just that. I receive emails on a regular basis from members thanking PetBrags for the friendships they've made on the site.
What features do you like most on your network?
I love it that each member can have their own special space. The ability for the members to customize their special space is awesome. It makes them feel special, and gives them a way to not only brag on their pets but to express their creativity. Of course, the ability to upload photos, videos and music is the best. Being able to give members the ability to interface with major sites like YouTube and Flickr is most attractive. The members love the friend request feature. And I like having the right-hand column available to all pages.
What surprises you the most from members? Their kindness. Their caring and sincere words and actions still amaze me. Our members are phenomenal. If a pet is in trouble, ill, or even if the pet's owner is having problems, just tell the loyal Braggers on PetBrags. I can guarantee that many members will react, lend a helping hand, answer questions, listen on the chat boxes, or do whatever they can to help you out. It's really amazing. I think by being so strict on keeping the site decent and clean, we have attracted an extraordinary personality type.
What's next for Petbrags? We own and plan to pursue the domains friendbrags and familybrags.com, along with several others. Hopefully, some day we'll branch out, giving members even more options on content in addition to pet-related content.