Henry's book club
Ning Network Spotlight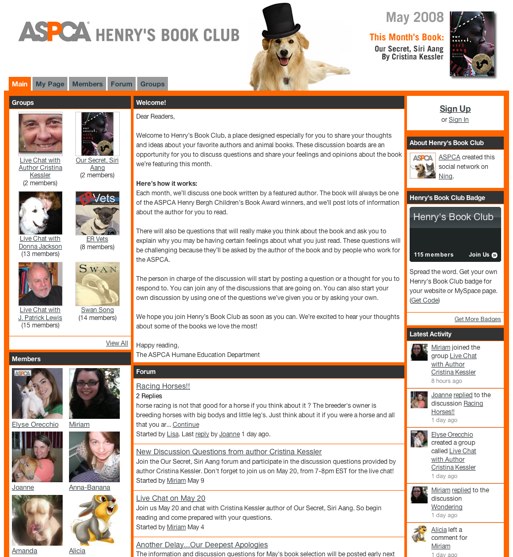 Henry's Book Club was started by the ASPCA Humane Education Department as a network to bring animal lovers together to talk about animal books! Each month, staff members in the Education Department pick an award-winning children's book to feature. They post information about the author and encourage members to join the discussion.
For May, the book is Our Secret, Siri Aang by Cristina Kessler. It tells the story of a 12-year-old, living in a Maasai village in Africa, who befriends a black rhino and gets to name the rhino's small baby in a special naming ceremony. In addition to members being able to share their take on the book with one another, network members also get an opportunity to chat with the author.
The ASPCA promotes the book club on their main site at ASPCA.org. By using the ASPCA logo and similar colors on their network, they are easily able to tie the network to the site.
There's still time to join the network and participate in the May discussion, so make your way to Henry's Book Club today!