Homage to the Greats at Tributes Radio
Ning Network Spotlight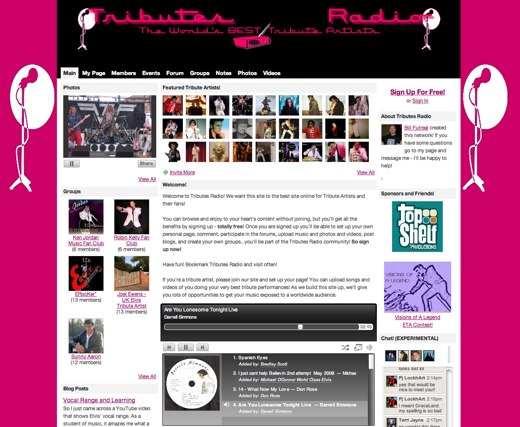 Elvis. David Lee Roth. Gene Simmons. All fantastic artists being paid tribute to on Tributes Radio. Everyone has seen or heard Elvis impersonators, but few are aware of the slew of tribute acts that replay, relive and reperform the work great artists who have shaped the course of music.
The passion for live performance and honoring great musicians lives on at Tributes Radio. The main page jumps out with different media that engages members. A tribute performance from a random member begins playing to provide some listening while browsing the network. There is also an experimental global chat section for members to talk while listening or checking out the network's features.
All the features are actively used by the members, especially groups, enhancing the activity on the network. Individual groups have fun discussion topics like trivia and favorite songs. And videos contain a mix of member performances, as well as classic music videos from the artists themselves.  
Since many tribute performers are members of Tributes Radio, browsing the members pages reveals lots of songs and videos. Bill Futreal, the Network Creator, is actively making this a great place for artists and fans to connect and pay homage.
Check out Tributes Radio, because bands come and go, but legends never die!