i-Italy: The Italian/American Digital Project
Ning Network Spotlight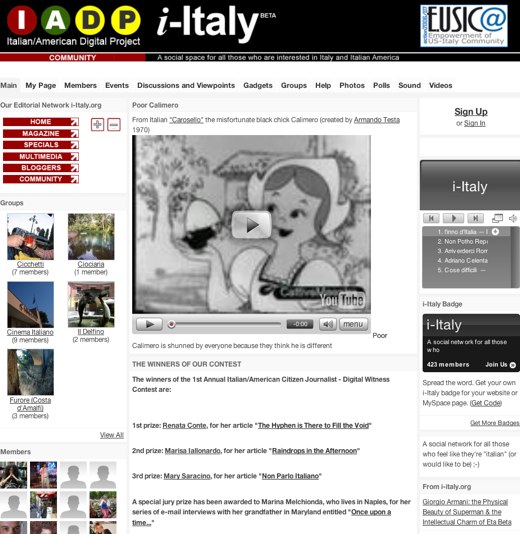 The i-Italy network is a community for those interested in Italy and Italian America. Subtitled "The Italian/American Digital Project," i-Italy is a non-profit organization that has a goal "to connect Italian Americans and Americans who love Italy, using the Web to build social, cultural and business releationships," project coordinator Ottorino Cappelli said.
The organization's main page is like a digital magazine, a collection of blogs discussing current events and engaging in cultural debate related to Italy and Italian American. They are dedicated to building an online presence. The network and magazine tap into the romance and allure that Italy and Italian Americans inherently possess.
i-Italy's members are dedicated learning and spreading knowledge about the wonderful culture of Italy and Italian America. The network is unique because of the bilingual blogs and forum threads that tie the members together in their shared passion. They've even taken advantage of the music player feature to upload Italian music. Here's the current featured playlist:
The network has been beautifully integrated into the organization's main Web site with a similar color scheme and the same lovely custom header. It allows those reading the main Web site to engage in discussions and post their own blogs in a comfortable environment. i-Italy's network provides a gathering place for not only Italian Americans and Italians living in America, but for anyone who is interested in the romance of Italian and Italian American culture.