Break social stereotypes at INKED Inc.
Ning Network Spotlight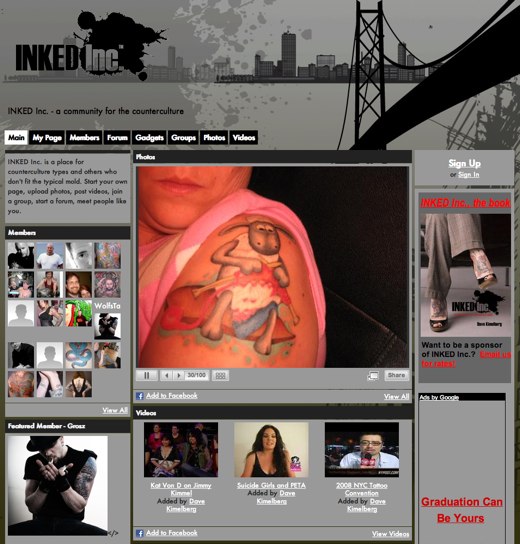 INKED Inc. is a social network for, you guessed it, tattoos. Whether you have 20, 10, one or none, you should take a look at this colourful and innovative network as you will find amazing bodyart that will awe you!
Network Creator, Dave Kimelberg, is a corporate lawyer with 3/4 sleeves on both arms. We are very excited that he took the time out of his busy schedule to talk to Ning about his network.

How did you hear about Ning?
I heard about Ning through word of mouth. Some of my friends are very involved in the social networking space and told me that Ning is a great platform.
What is your favorite network feature?
That's a hard question — almost all of the features are great. If I had to choose, it would likely be the video feature. It's incredibly easy to import videos, which members love.
How have your members reacted to the network?
They think it's fantastic. I often get emails from members saying they love the network. The network is designed for a unique group of people, so they like the fact that they can interact with people like themselves.
What have you found most surprising in the process of creating this network?
Definitely how easy it is to create a robust and interesting social community. I'm not a programmer, but I find it simple to build the network into a dynamic space that looks and functions exactly how I want it to and how the members want it to.
What is your vision for your social network?
The network is part of a collection of things focusing on the counterculture community. It includes a book I published last year (INKED Inc.) about heavily tattooed professionals (doctors, lawyers, etc.) and other components. So the vision for everything is to bring the content to as wide an audience as possible with the hope of breaking down societal stereotypes of what it means to have bodyart.
Have your members met each other outside of cyberspace?
Yes. Some members have met individually after meeting on the network and we've had a couple of parties where large groups of members have showed up.
What is an area of your network that you're most proud of?
There's no specific area that I'm most proud of. I'm just happy that I've been able to provide a compelling network to a great group of people.
Anything else you'd like to share about Inked Inc?
I've received emails from people who have told me that the network has been a great experience for them personally. They've often felt like outsiders with their large amount of bodyart, but have been amazed at the number of people like them they meet on the network. They find this very reassuring.