Keeping the Conversation going
Ning Network Spotlight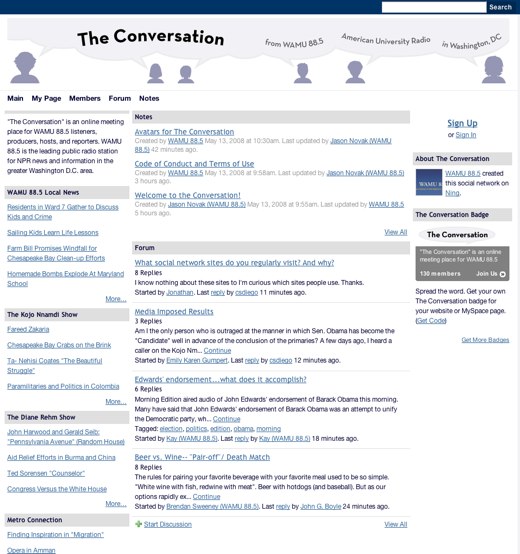 Recently, Ning CEO Gina Bianchini appeared on The Diane Rehm Show, a syndicated National Public Radio program, to shed light on the features of Ning and social networking.  Apparently, she didn't just have an effect on the listeners of the show.
The day after the segment aired, WAMU 88.5 — the NPR affiliate that hosts the Diane Rehm show — set up a social network on Ning. The network, called The Conversation, is "an online meeting place for WAMU 88.5 listeners, producers, hosts and reporters."
In the slightly more than two days since the network was created, the network already has more than 150 members. And, in a sign of the simplicity of setting up your network, the network already features both a custom default avatar and domain mapping.
Network administrators have split the forum into two sections. One is called "Start Your Own Conversation", where members can bring up any topics that interest them. Members have already debated the value of John Edward's endorsement of Barack Obama and asked fellow members which blogs they follow. The other discussion category is "Participate in the Process," where WAMU reporters interact directly with listeners by getting their comments on upcoming stories before they are published. The commentary has ranged from serious — the legacy of the DC riots — to the less serious — beer vs. wine preferences.
With so much interaction taking place in just two days, one can only imagine what WAMU staff and listeners will accomplish with the network. The important part step is done — they've started The Conversation.