Landing upright at Landroof
Ning Network Spotlight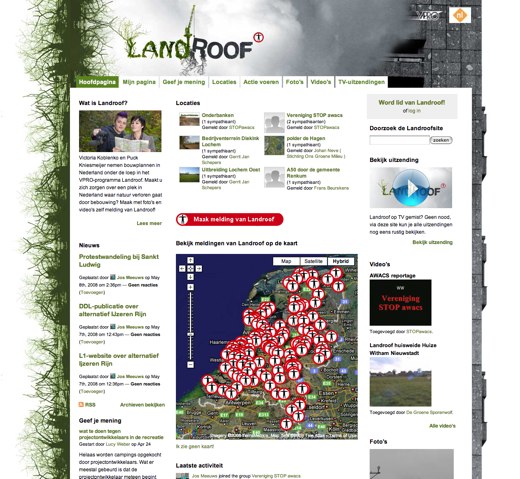 Landroof is a social network about the Dutch television program, Landroof, shown on the VPRO television network.
The most striking thing is design of the network; it captures your attention immediately. The use of a great header, which integrates with the rest of the network, provides a visual depiction of nature growing out of a building. Landroof takes advantage of included features like videos, photos and locations (groups). Landroof also makes full use of the language editor, choosing the Dutch option, and translating additional phrases to those of their choosing.
A major feature added to the main page of Landroof is the map widget, where you can "Bekijk meldingen van Landroof op de kaart" or "See reports of Landroof on the map" (thanks google translate). A few other custom features include a search box on the right side of the network, and a tag cloud in the lower half of the main page.
If you are a fan of the television program Landroof, enjoy the Landroof network!