Laying the smackdown on Florida Wrestling fans
Ning Network Spotlight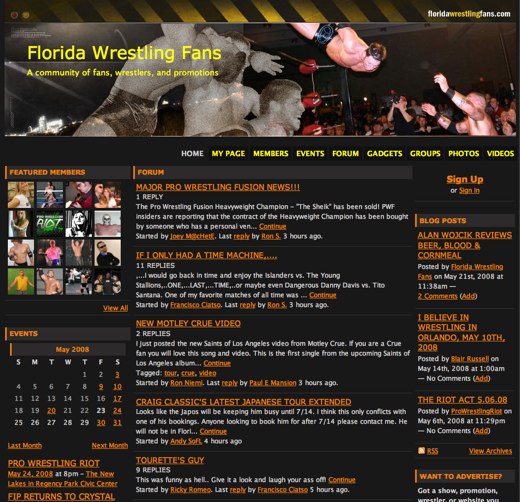 Florida Wrestling Fans is for, who else, wrestling fans. From Florida. Aside from a simple and direct network name, the network — created by Justin Ferren — is also a community of fans, wrestlers and independent wrestling promotions in Florida such as Full Impact Pro and Federation X Entertainment.
Events on this network work really well here — the wrestlers themselves are commenting about their upcoming bouts, doing what wrestlers do best: endless amounts of trash talking. Members can also watch wrestling clips, talk about the local wrestling circuit and be friends with wrestlers such as Naphtali, Kim Dakota and Moonshine McCoy, which wins my personal title of "Best Wrestler Name I've Seen on a Social Network."
Fans in Florida, get out there and support your local wrestling community! Me, I'll be in the back, safe from any flying suplexes gone awry.