Learning with Alabama Homeschooling
Ning Network Spotlight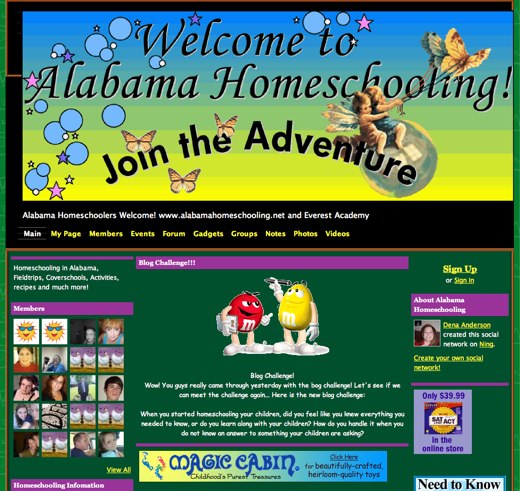 Are you looking to learn more about homeschooling in Alabama? If so we've found a great resource for you! The Alabama Homeschooling Network has done all the research for parents who are interested in or are currently homeschooling their children. From paperwork, to curriculum resources, to testing materials the Alabama Homeschooling Network has done all the work for you.
With more than 300 members, parents, students and teachers in Alabama can share ways to enrich the homeschooling experience. Check out the forums section to see teen and parent book clubs, after-school sports sign-ups, and tutoring programs for students. The events page keeps parents up to date on informative events like the One Day Home Educator's Conference or Alabama's Homeschool Awards Ceremony.
If you're thinking about homeschooling your children, check out the blog section where parents share stories of about homeschooling their kids through elementary, middle and high school. So join the adventure of homeschooling today and check out the Alabama Homeschooling network!