Live Slow, Drink Jaho
Ning Network Spotlight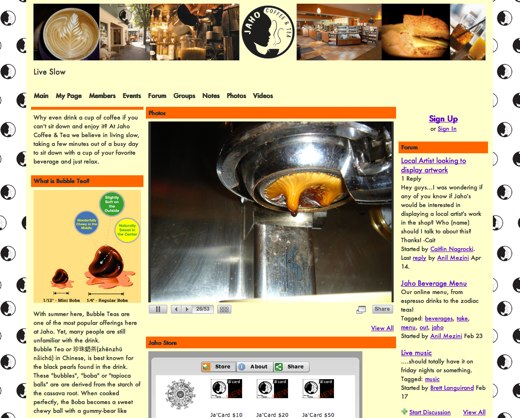 Jaho Coffee's slogan may seem a bit backwards to the average coffee drinker.

Why even drink a cup of coffee if you can't sit down and enjoy it? At Jaho Coffee & Tea we believe in living slow, taking a few minutes out of a busy day to sit down with a cup of your favorite beverage and just relax.
I typically start the day by grabbing the biggest mug I can find and filling it to the top with caffeine, sugar and milk. Apparently I don't know the first thing about coffee. That's why I've enjoyed the Jaho Coffee network so much!
Located in Salem, Mass., this amazing little coffee and tea shop has received rave reviews. Since opening on August of 2005, Jaho has become Salem's favorite coffee shop and a regular stop for many of the locals. Don't be fooled though. Their awesome network isn't just for those in the Salem area. Members can join to discuss all things tea and coffee shop or just to drool over the amazing pictures.
So steam your way over to Jaho Coffee and Tea. It's the only place to meet a Maneki Neko Barista!