MacJunkies Unite
Ning Network Spotlight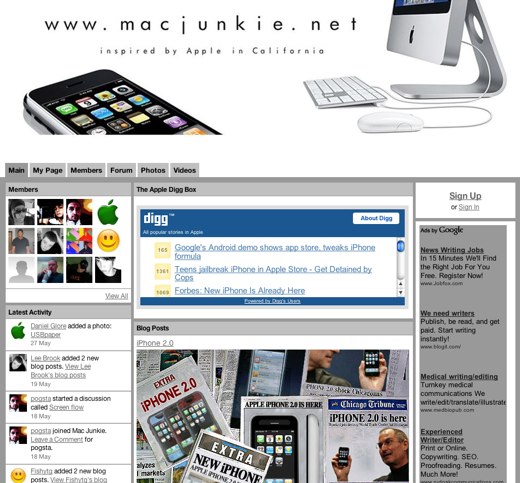 If you can't live without your Mac then the MacJunkie network is for you. Inspired by Apple Inc., Network Creator Lee Brook has done a great job organizing everything you need to know to keep up with the latest Steve Jobs creation. The latest rumors buzzing in the MacJunkie blog? The arrival of iPhone 2.0. MacJunkie has the leaked pictures, reviews and more to let you know what and what not to expect about the summer release of the iPhone.
MacJunkie isn't just a rumor blog, it's also dedicated to product reviews for your Mac. In the market for a new monitor for your Mac? Thinking about purchasing Screen Flow to make some killer screencasts? For those thinking about a new keyboard, Check out David Rubenstein's review:
Members are also dedicated to using social networking as a tool to  create free services for Mac lovers across the world. Their love for Macs show with their free e-magazine for Apple news, tips, reviews, rumors and much more. If this gets you Mac juices flowing, join the MacJunkie network and get your Mac fix for the day!