Sharing ideas with Minnesota Recruiters
Ning Network Spotlight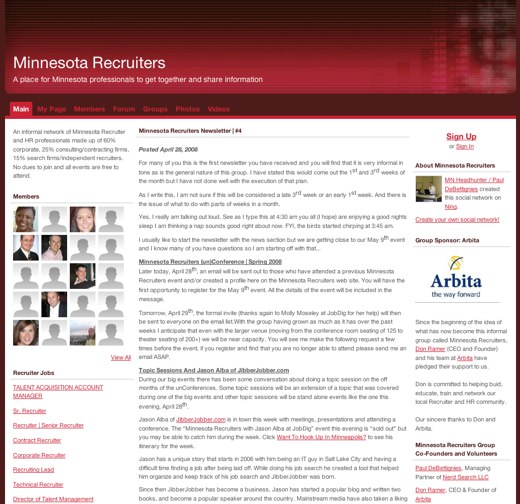 Minnesota Recruiters is a network for HR professionals in the upper midwest. Created by Paul DeBettignies, managing partner of the Minneapolis-based recruiting firm Nerd Search, the network aims to share best practices, tips and tricks, and help people meet colleagues in the industry.
RSS feeds have put to good use on the main page so the network offers one-stop shopping for industry news, whether it's finding out about the impact of an economic downtown or tips on promoting jobs to Generation Y.
Paul also posts a newsletter twice a month, highlighting upcoming events like a May 9 recruiting "(un)conference" and sharing thoughts on new technologies that might be of interest to recruiters, like how to use Twitter.
If you miss an event, you can catch some highlights in the video section, like this clip from a recent seminar.
With so much information in one place, it's no wonder the network has quickly grown to 340 members. Minnesota Recruiters is a great example of how a business network can bring people together!