Overtone Music Network
Ning Network Spotlight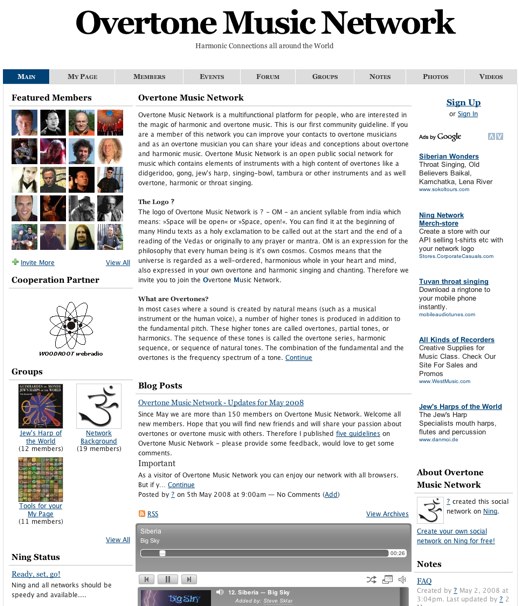 The Overtone Music Network is a network for people "who are interested in the magic of harmonic and overtone music." What is an overtone? When a note sounds, whether produced by the human voice or an instrument, a series of higher pitches are produced, at times audible to the ear. These higher pitches are overtones. To hear for yourself, check out this video featuring the Overtone Orchestra.
More than 160 members on the network share their enthusiasm for this music, posting information about their background and samples of their work on profile pages.
Composer Bernd Michael Sommer posts performances of his music using the music player. Baird Hersey, who started the vocal group Prana, includes videos of the group's performances, information on how they got started, as well as links to external sites for people interested in buying their CDs.
The network's events calendar provides information on many opportunities to hear a performance of overtone music. You can also learn about upcoming workshops if you are a musician yourself.
With so much to explore, the Overtone Music Network is a fascinating look at this interesting corner of the music world!