Plunge into the world of whitewater
Ning Network Spotlight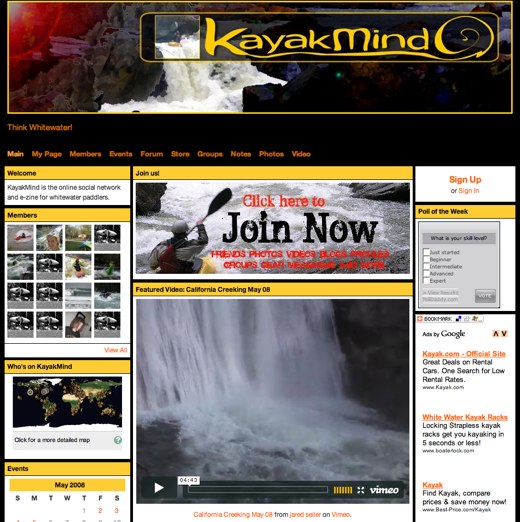 If you can't get enough of the adrenaline that pumps through your veins when you ride the waterwater, KayakMind is the social network for you!
Network Creator Chris Emery is a 15-year veteran to the sport of whitewater kayaking, and he took the time out of his wet schedule to talk to speak with us about his fantastic social network.
"I really like the ability to control what blog posts are featured on the front of the site," he said. "That way it's like a community-driven magazine, where only the most interesting stuff ends up on the front page. The video and photo galleries are also terrific."
Members have been loving their niche network. They are highly active and have regularly taken kayaking trips together!
"There is a group called Boater Chicks on KayakMind, formed by the female members, that is hugely active," Chris said. "They just held a festival in North Carolina, at which 150 or so kayakers attended. There's another one planned for Oregon in June."
As the network continues to grow expand, so does the vision for the network as a whole.
"I would like to continue grown the membership and eventually sell some advertising," he said. "It would be terrific to be able to hire freelance writers to produce some feature articles in addition to the submissions by members. I'd like to see more events and niche paddling groups evolve from the network."
With the active following that KayakMind is gaining all across the world, we will, no doubt, see them make a splash in the future.