Prayer and harmony at HeMustIncrease
Ning Network Spotlight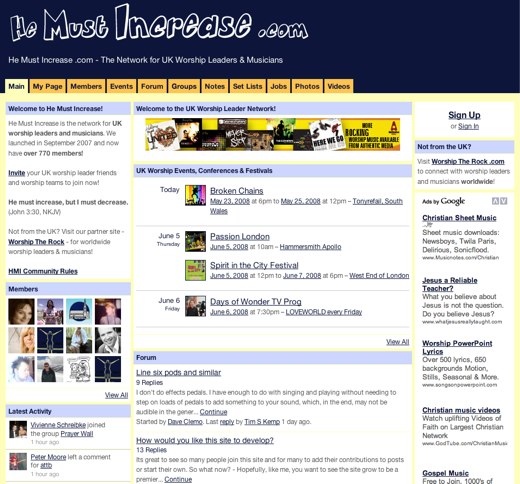 With more than 700 members, Hemustincrease.com is one of the most popular networks for United Kingdom worship leaders and musicians. Originally launched in September 2007, this network has taken off and is a favorite among fans across the world who love Christian music and musicians from the UK.
The tremendous support and fan base for the UK Christian music scene is easily apparent on the network. Members use the events feature to post UK worship events, conferences, and music festivals. In fact if you're in London this month check out the 'Spirit in the City' Festival and jam with your favorite musicians and celebrate the Christian faith in the heart of downtown London!
Phil Williams, Network Creator of He Must Increase, has made finding what you're interested in easy by organizing the forums into categories that are helpful to musicians and fans alike. Whether you're an amateur performer or a die hard fan of worship music check out Hemustncrease.com today!