Put on Your Funk at FUNKFrance
Ning Network Spotlight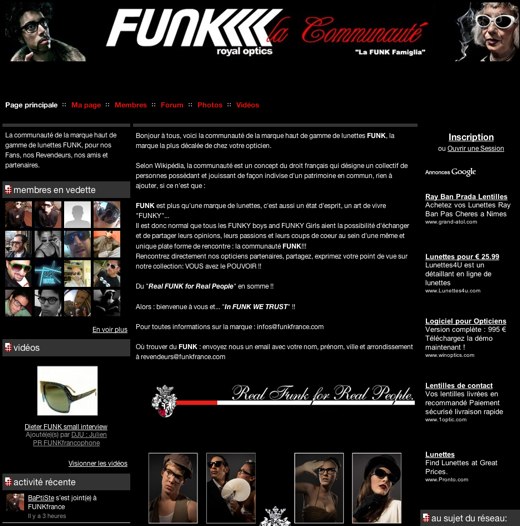 FUNKFrance is a social network for people who love the upscale brand of sunglasses called, FUNK. For the past decade, it has become a big fashion phenomenon in Europe. Sunglasses designer and DJ in his native home, Germany, Dieter Funk started his high-end FUNK sunglasses back in 1992 which are now being selectively and exclusively distributed worldwide. The FUNK brand has a high reputation for its quality, design, technicality, and a huge devoted clientele like music artists, Lenny Kravitz and Busta Rhymes.
The FUNK sunglass collection reflects both fashion and music from the past 50 years. Beast, Duke de Luxe and Queen Bee are just some of the cool names given to them where you know its owner will wear them proudly with some FUNK attitude to accompany. Just like its FUNK sunglasses counterparts, the social network's design appearance is sleek and stylish. The Network Creator explains, "FUNK is not just a brand but also a state of being, an art of living a lifestyle of FUNK."
Even though the social network is completely in French, you don't need to know how to read French to understand the universal language of coolness that is translated into FUNKFrance.
Check out the slide show of "Real FUNK for Real People" below and head over to FUNKFrance to check out the latest FUNK fashion.