Relive The Golden Age of Hollywood
Ning Network Spotlight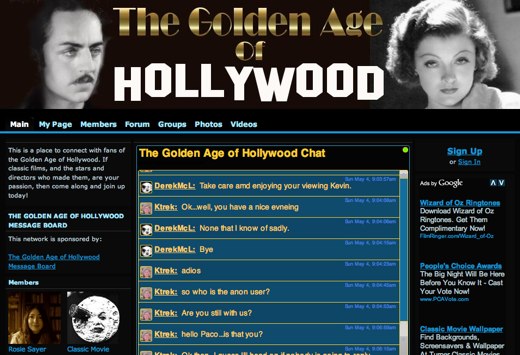 It was the time of Frank Sinatra, Marilyn Monroe, Humphrey Bogart, Rita Hayworth, Gene Kelly and Greta Garbo. Although the days of their silver screen glory are in the past, their memories are commemorated by the members of The Golden Age of Hollywood.
Members discuss their love and admiration for this fantastic era in forums. Find out who shares your love for your favourite musical star or discuss the movies that made you cry. If Fred and Ginger movies make you want to sing and dance, join the discussion on the 1935 classic, Top Hat.
Groups have been created for every movie genre you can imagine! Whether you love screwball comedies, Film Noir, are a fan of classic animation or simply can't get enough of classic movie comedians, there is a group for you.
A great amount of videos and photos have been posted as well. Watch a Cary Grant or Clark Gable tribute or a vintage trailer of the 1932 "The Mummy. " Or simply take a look at some great movie clips.
If you love classic movies, The Golden Age of Hollywood is a network that should not be missed!