Revisiting Aunty Monkey
Ning Network Spotlight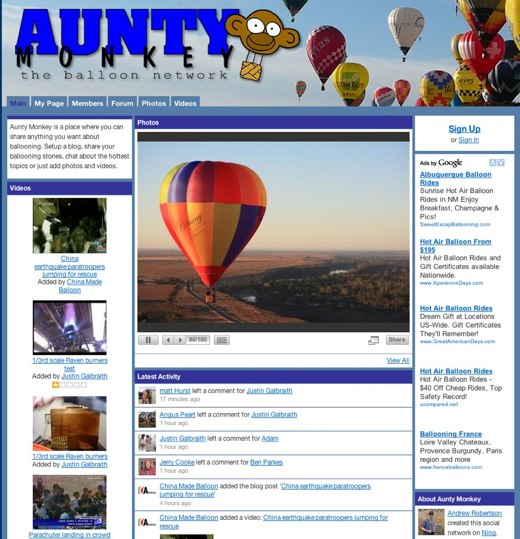 When we last blogged about Aunty Monkey in August of 2007, it had more than 250 members. Today, this social network is reaching high towards 650 hot-air balloon enthusiasts. And in another milestone worth celebrating, the social network went from no. 10 on the top-50 balloon Web sites to no. 3, re-affirming the power of search engine optimization.
The always lively forum stays afloat with topic discussions that cover competition ballooning, events and festivals and Aunty Monkey challenges started by the Network Creator. You can browse through a huge collection of photos that capture the wonder and beauty of hot air balloons from all around the world. You can also catch amazing videos of them flying up into the sky from places like Mexico, Dubai and Australia.
So come visit Aunty Monkey and balloons, like the ones from this awesome video below, take their wondrous flights!