Sew What's New?
Ning Network Spotlight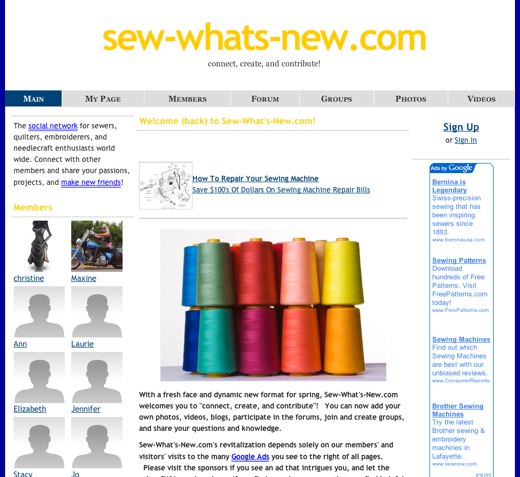 Plush and lovely, thick and warm, stretchy and comfortable, everyone loves home-sewn stuff!  Sew-whats-new.com is where aficionados of all things sewn can come together, trade patterns and get advice on the nuances of cross stitch.
For anyone looking to learn more about sewing, this site is a great resource.  The videos section offers nifty visual tutorials of different sewing, dyeing, and pattern techniques.  You can learn the basics or progress to more advanced techniques and projects.  This site grooms it's members to replicate interesting projects and then be able to take those skills and a create projects of their own. The groups section is also a great place for different niches of this sewing network.  Each group's title is named with an appropriate "We love to Sew!/Quilt!/Cross Stitch!/Embroider!".  These should get you started in discovering the world of the boutique sewing.  
The network "Editor" has done a great job of designing this site and making it her own.  Her videos and pictures make it a great place to learn and connect with other people who sew.  So go ahead and see what's new at sew-whats-new.com!