Stepping it up with Greekster.tv
Ning Network Spotlight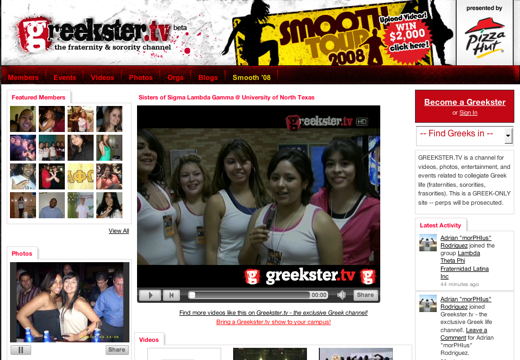 Greekster.tv is a channel for videos, photos, entertainment and events related to Greek life — or, more specifically, life in collegiate fraternities and sororities all over North America. (As opposed to, you know, people from Greece.) Members of all corners of social Greek life are welcome here, including members from the National Association of Latino Fraternal Organizations, the National Pan-Hellenic Council and the National Multicultural Greek Council, as well as other fraternities and sororities — both international and independent — around the country.
Here, you can view hundreds of photos and videos of Greeks stepping, strolling and doing what people in fraternities and sororities do best: having fun while serving their community. And for the members of Greekster.tv, there are payoffs to adding videos — as the organizer of Smooth Tour 08 sponsored by Pizza Hut — members upload their performance videos, with the highest rated ones having a chance to win more than $2,000 for their Greek organization.
They also have a blog page — written "by Greeks, for Greeks" — discussing the issues that affect their respective organizations and the world around them. (As a network creator, you can also add a blog tab for your network by adding a tab with some Javascript.)
So if you're a member of a fraternity or sorority and want to meet other Greeks from around the country then join Greekster.tv and get your stroll on.