Finding the right stories to tell
Ning Network Spotlight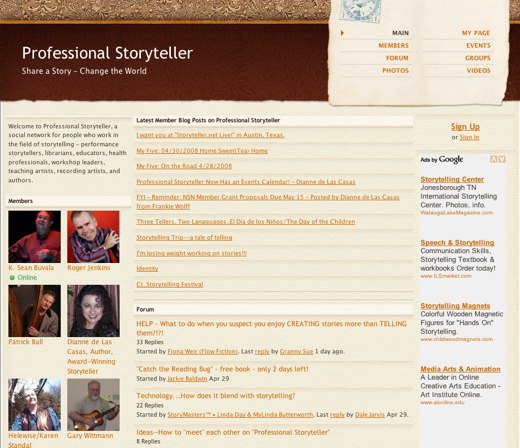 Professional Storyteller is a social network which draws close to 400 members who all share a love for story telling and making a career out of their craft. Network Creator Dianne de Las Casas is an author and award-winning storyteller who wanted to create a social network where "professional storytellers could "hang out" in a professional yet fun environment, a place where we could come to share ideas, lean on each other for support, and build camaraderie and community".
In the forum, read about how the Network Creator and members became professional storytellers in replying to the discussion question "How did you get started as a professional storyteller?". Other hot topics that generate the most discussions amongst members range from serious discussions such as "Technology…How does it blend with storytelling?" to fun discussions such as "Elephant and rabbit stories". There are a myriad of groups that members can join to connect with other members on the social network. Groups that draw the most member participation are the storytelling business, storytelling in education, and the power of storytelling. There's also an FAQ group to help members make the most of their experience while on the social network.
If you haven't been to a storytelling event, check out the events page where several festivals and conferences will take place in cities like Atlanta, GA and the Bay Area. More festivals and conferences can be found here if you haven't found an event to peak your interest.
Do you have a story to share with the world and need a some inspiration? Come check out videos and audios from people living out their storytelling dreams.