The Altered Diva in You
Ning Network Spotlight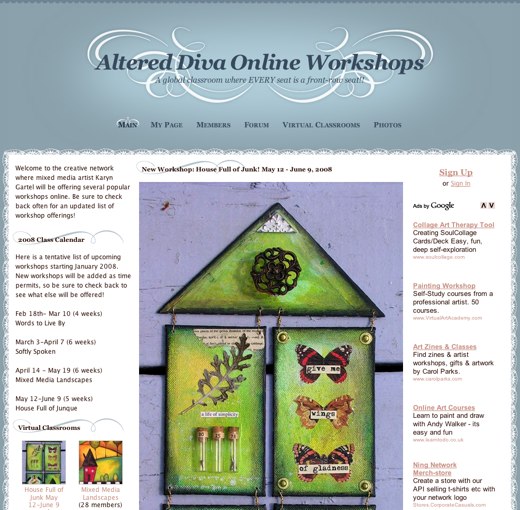 Karyn Gartel is a mixed media artist, and the creator of Altered Diva Online Workshops, who came up with an idea of making money on her social network by sharing her knowledge of mixed media art through the use of workshops. On the main page, you'll find a list of upcoming workshops and detailed information about each of them. There's also a an extensive FAQ about how workshops are be conducted and how members can sign up and pay for them.
Making great use of the groups feature, members who have paid for a workshop will get an invitation from the Network Creator to join a private group. The Network Creator has also taken advantage of the Language Editor to rename the Groups tab to Virtual Classrooms. Below are some of the awesome artwork that members have produced.
Do you have a great service or a product that you think people will be willing to pay for on your social network? Head over to Altered Diva Online Workshops and check out how the Network Creator had nicely combined both her passion for teaching art and the spirit of capitalism.