The conference network
Ning's Tips and Tricks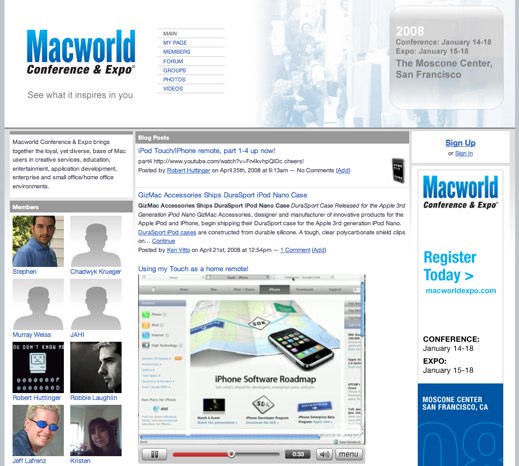 One of the great things about conferences is the opportunity to meet and learn from like-minded professionals in your field. They are all about creating and getting the most out of a network, so it's no surprise that Ning is a great tool for doing that online. Here are just a few ways to take advantage of the Ning platform for your conference.
Meet and greet
People can start networking before the conference even starts! Customized profile questions can highlight information that will be of interest to other conference attendees. Members can also add photos, feed in posts from a personal blog, customize the look of their page and more.
Public or private? You decide.
With Ning's privacy options, you can choose whether to keep the network public and viewable to all, or whether an invitation is needed to join.
Post your conference schedule
Use the new events feature to add your conference schedule to the network. Don't worry! If "event" doesn't sound quite right, use the language editor to change the word "event" to "session," "meeting" or whatever best suits your group. If you have different tracks at your conference, use the "event type" to tag each event as belonging to a certain track, like "beginner" or "intermediate." Members can easily click on the event type to find all matching sessions.
Customize the design
You can add your own header graphic and logo to any of the more than 50 out-of-the-box templates on Ning or completely customize the design with your own CSS. If you are trying to match another website or offline marketing materials, it's easy to do.
Remove ads and use your own domain name
Use Ning's premium services to remove or run your own ads and to set up the network at your own domain name.
These are just a few of the many features that you can put to work for your conference. Create your own network to explore for yourself!