The fight for sustainable development
Ning Network Spotlight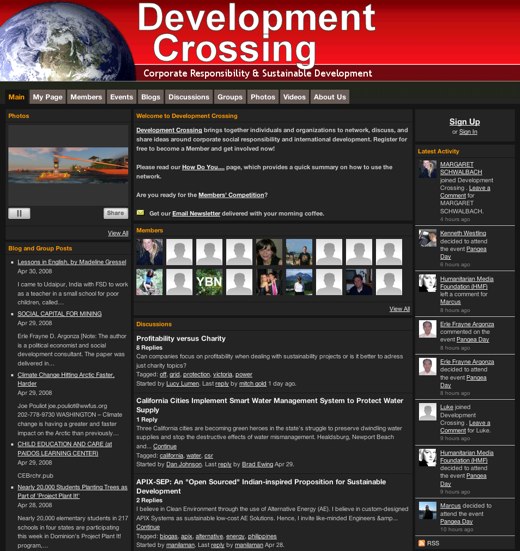 Development Crossing is an exciting network that brings members from around the world together to network, discuss and share ideas about social responsibility and globalization.
Join in on one of the many highly active forum discussions. Discuss whether it is possible for companies to make a profit while dealing with sustainable projects or be updated on the Darfur death toll. Do you have an opinion on Product Red or the transparency of corporate social responsibility? You can even win a (RED) iPod Shuffle through the member competitions.
Members have taken full charge of visual stimulation by posting fantastic photos and videos from all corners of the globe. Take a look at a funny PSA by David Beckham or one by the Blue Man Group. Be inspired by the trailer for "We Are Together" or laugh as Steven Colbert takes a look at a water purifying machine. You can even learn about microfinance or witness the food riots in Haiti.
The new events feature has been taken advantage of and member are posting information about conferences and events all around the world! Learn about, or even attend the Global Business Conference for Modern Lighting in Africa in Ghana or the earthNOW Expo in Las Vegas. If you can't make it out to an event, celebrate Pangea Day or host Heart of Africa in your own town!
Development Crossing is a fantastic resource for anyone interested in globalization or social development! Don't be shy and join like-minded people in the fight to save the world.