Theatre with "re!"
Ning Network Spotlight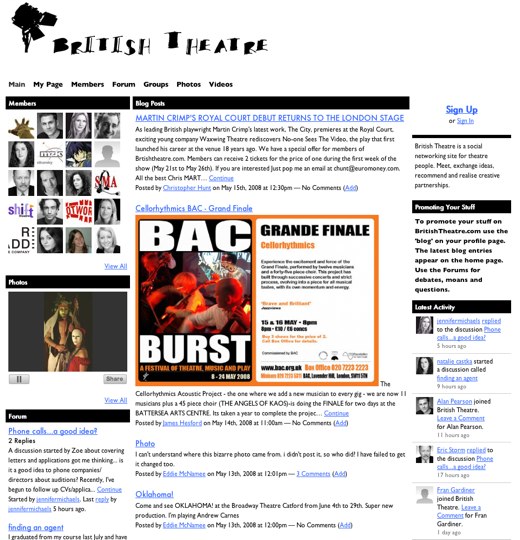 British Theatre is a social network giving theatre people the chance to meet and exchange ideas. Take a look and learn, discuss and promote your visions!
Network Creator Marcus Markou, who first read about Ning through on TechCrunch, hopes "to bring the British theatre industry together in one place, so that people are able to meet, collaborate, exchange ideas and realise new ventures." He speaks fondly of his experience with creating his very own social network and is thrilled with "the ease by which I have been able to create an online brand and destination without any technical knowledge. The ability to customize a social network by being able to drag and drop functionality [is one of my favourite features]," he added. "I guess my favourite feature is the overall flexibility of the platform."
Marcus writes warmly about his members. "It's been largely word-of-mouth," he said about his member growth process. "Because the theatre industry is so fragmented in the UK, the idea of a social network is instantly appealing. I haven't had to do too much. However, I am not thinking of pro-actively emailing people in the industry to sign up and create a profile." As a result of his social network, members have begun to collaborate in the real world.
"I think the key to a successful social network is a genuine desire to bring people together," says Marcus in closing. "I think if you are out to try and make money, then you will fail. However, if your intention is to connect people — and you are a natural 'connector' — then you can achieve a great sense of achievement and happiness using Ning. The platform is for people who get joy from bringing other people together."
With pure passion driving British Theatre, we are sure to hear great things from them in the future.