Touching base with the Independent Comedy Network
Ning Network Spotlight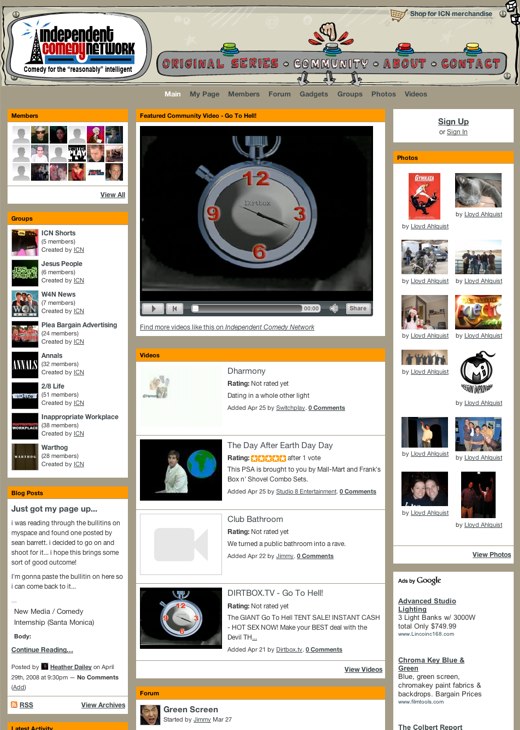 The Independent Comedy Network produces and distributes original comedic shorts, sketches, and series' using the Ning platform. A lot has changed since we last featured the hilarious network producing comedy for the 'reasonably intelligent'. We spoke to Marc Campbell, founder and CEO of the Independent Comedy Network and the Westside Eclectic Theater in Santa Monica, Calif. Here's what he had to say:
Who are you and where are you from?
We are The Independent Comedy Network, a new media company that launches and distributes comedy web series. We are based out of Santa Monica, Calif.
What made you decide to create a social network on Ning?
We were looking for an inexpensive yet robust social networking solution that would allow us to build communities around our network and the shows we distribute.  Ning was exactly what we were looking for.
What makes the Independent Comedy Network so unique?
We are focused on developing and launching comedy web series, and work with a network of comedy theaters in Los Angeles, New York, and Chicago where some of the best comedic talent come from.  We¹re building a system to create high quality, low cost content and enable content producers to get their work seen.
What is the most popular web series on the Independent Comedy Network?
All of our shows have received a tremendous response, however 2/8 Life, our take on this generations twentysomethings, has developed a great fan base. Innappropriate Workplace and W4N News have also done exceedingly well so far.
Which comics, performers or sketch troupes are you really into right now?
There are so many great comedy acts right now, but we are always checking for new stuff from Zack Galifinaikis, Tim and Eric, Hugh Moore, Paul F. Tompkins, Eddie Pepitone, Dave Hill, Maria Bamford, and The Kids in the Hall.  And of course we love our home based improv groups, Ladies and Gentlemen and Headbone, many members of which have appeared in our first several series.
What surprises you the most from members?
We are always surprised how quickly people are able to figure out the Ning functionality and really customize their presence in our network. It's been really amazing to see all these positive and creative people connecting, and genuine relationships coming to life, online and off.

Any advice for aspiring Network Creators? How do you suggest Network Creators spread the word about their network?
Nothing beats personal outreach! We  promote our network through our website, icn.tv, and are in pre-production on videos specifically aimed at driving traffic to our social network.