Twisting into position on Contortionists Unite
Ning Network Spotlight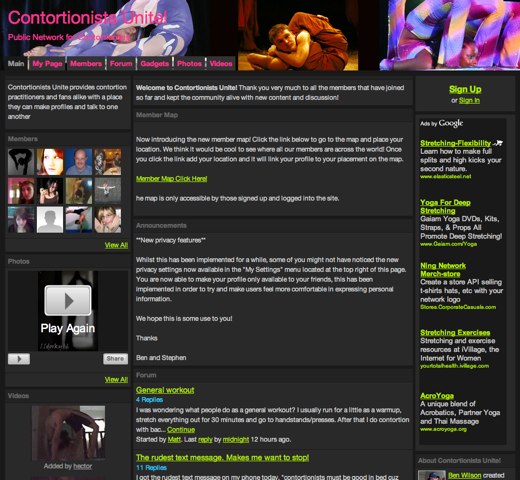 Call an ambulance — someone's in pain! Oh wait; it's a contortionist. The Contortionists Unite! network is a small group of people who have the impressive ability to bend their bodies in ways incomprehensible to the average bone-filled, joint-having human being.  This body-bending art form has been around for a long time, but performances such as Cirque du Soleil have brought it into public view.
Contortionists Unite! is a place where amateur contortionists are able to showcase their skills and progress. Some of the videos demonstrate different contortions, while others demonstrate members progress in learning these techniques. The forum section has advice on diet, exercise and, most importantly, stretching.
Some of this is really jaw dropping.  Contortion is an amazing body artform, that showcases the far extremes of what the human body can do.  Check out this Cirque du Soleil video of a contortionist routine. Stretch out and watch them go!