A place for Navy men (and women!)
Ning Network Spotlight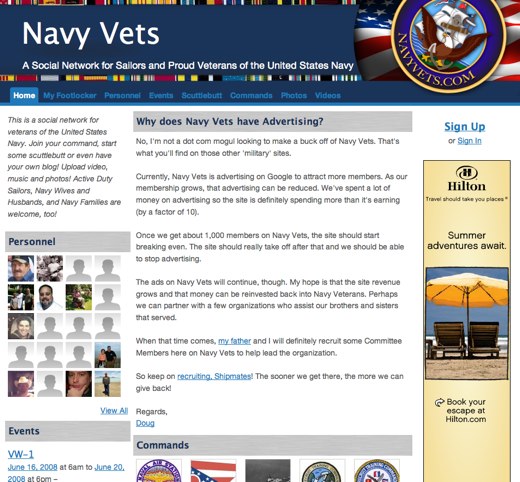 For veterans of the United States Navy, networking with fellow servicemen and women doesn't have to end when you leave the service. And it can start while you're still serving, for all that spare time between mess hall and training missions. It all happens at Navy Vets, the best social network for our water-bound soldiers, their parents and their families.
As members can see, Navy Vets "is a social network for veterans of the United States Navy," where members are encouraged to "Join your command, start some scuttlebutt or even have your own blog."
The network, started by Network Creator Douglas Karr, takes great advantage of the Language Editor to give Navy Vets a distinct feel. Profile pages have been renamed "My Footlocker," the members page has become "Personnel" and the forum has been renamed "Scuttebutt." And, going a step further, groups represent different Naval commands, from the USS Orion to the Nimitz.
If you visit, be sure to check out the videos. You'll find salutes to veterans, along with military news footage. And the photos are stacked with reunion shots. Don't miss out, join Navy Vets today!