Finding Acceptance at Alopecia World
Ning Network Spotlight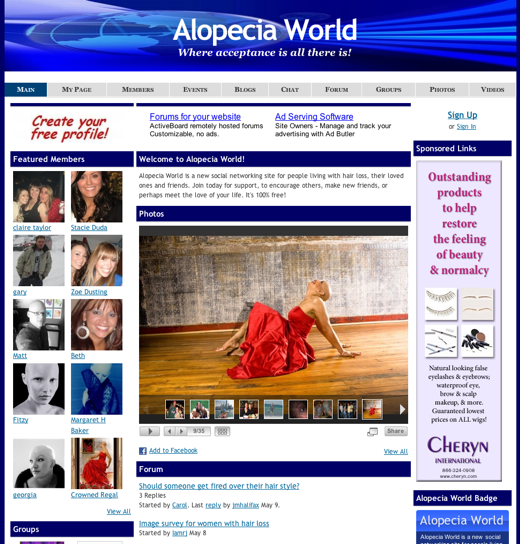 Alopecia is a rare condition affecting both males and females in which hair loss occurs somewhere on the body, usually on the scalp. Alopecia World is a great network for people who are afflicted or connected to someone afflicted with the condition. When going through something as psychologically trying as losing one's hair, it is essential to have a place to connect with others who understand the experience, especially with a condition that occurs most commonly during the teen years. Teen years are tough enough, without having to deal with hair loss!
Alopecia World is a perfect place for this kind of support networking. You can see how supportive and active this network is by looking at the blogs tab, which is a collection of all blog posts across the network. It contains more than 300 threads of stories about coping, words of support and humor to keep everyone laughing.
This network is simply a place where people can live their lives with and despite this condition. The Network Creators have done an amazing job of turning this site into a bustling, encouraging network for people in all stages of and connections to alopecia. The photos page is packed with glimpses into the lives of the members of this network. Some photos are of the hair loss experience and some show how alopecians get along regardless of their hair.  Groups have popped up for everything from regional support groups to a singles group connecting like minded alopecians. And for those looking for support in the flesh, the events page details some very cool speakers doing very cool things. One active support network is a group started by long time alopecian Thea Chassin, called Bald Girls Do Lunch. They have a few upcoming events in the San Francisco Bay Area that any Northern Californians would be remiss in missing.
A great introduction to the site might be these words of wisdom espoused by Richard Jones and Cheryl Carvery, the co-founders of Alopecia World. Even if you've never heard of alopecia before you should check out this network. It is inspirational for anyone, because it is a intricate story of coping and living that can be understood universally. We highly encourage you to spend some time on or contribute to this amazing network, because we all get by with a little help from our friends!