Avoiding, dealing with prostate cancer
Ning Network Spotlight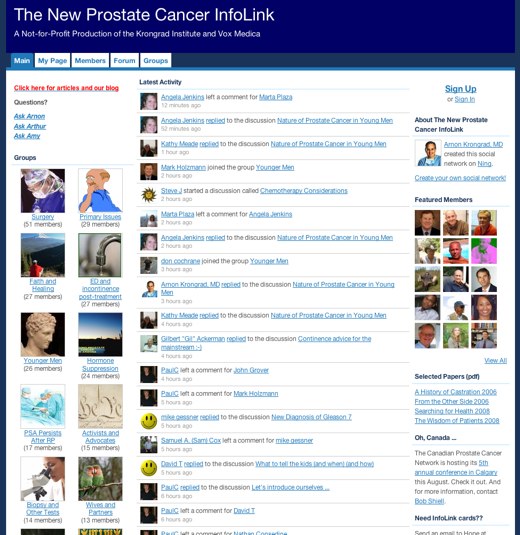 For men with or at risk for prostate cancer, The New Prostate Cancer InfoLink is the best place to exchange information and get support on the Internet.
The network — a non-prfoit production of the Krongrad Institute — is a hub of cancer-related discussion, much of which takes place on the forum. Members chime in about their thoughts on the role celebrities play in the perception of cancer, share recent news stories about types of cancer treatments and discuss their personal struggles with prostate cancer and treatments. Of course, cancer is a highly personal issue, so members also advise fellow participants about how to maintain your privacy while still getting value of the network.
Of course, the main forum isn't the only center of activity on the network. Groups are also highly popular.
In the ED and incontinence post-treatment group, members are carrying on a highly personal and serious discussion about the intimacy ramifications of prostate cancer treatment. As Paul C notes, "It would have been good if, before I underwent treatment, a medical professional had talked with me about post-treatment expectations." By brining these issues up on the network, members hope to better inform current and future patients who undergo treatment.
And that's just one of the many groups on the network. While prostate cancer typically occurs in older men, members set up the Younger Men group because "Men under 50 or 55 often have concerns that are different from those over 65 or 70." Members can also check out the Surgery group to find "everything you want to know about prostate cancer surgery."
If you or someone you care about has or is at risk for prostate cancer, you know where to find your information.