Environmental sustainability at Banco de Planeta
Ning Network Spotlight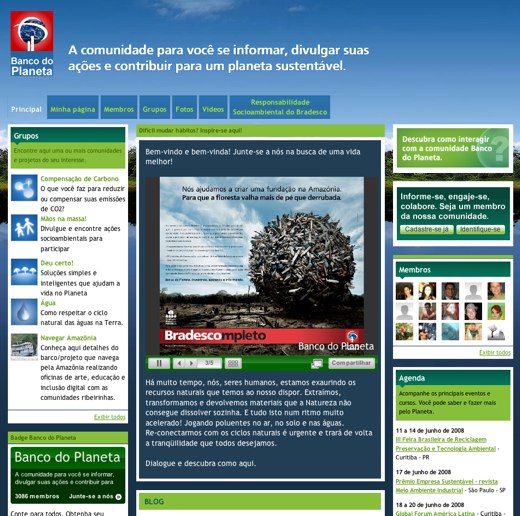 Banco do Planeta, or Bank of the Planet, is the social network created by Banco Bradesco, Brazil's largest private bank, which focuses on the pursuit of an environmentally sustainable planet.
The ideas being shared on Banco do Planeta cover many different aspects of environmental sustainability, including conserving water, offsetting and reducing carbon emissions, and recycling.
Some of the most interesting content is put forth by members through their blogs. Campanha "Eu Visto Consciente" talks about the growing market for organic cotton in Brazil. Cores limpas, or clean colors, discusses efforts by Researchers of the Institute of Chemistry of UNESP to develop biodegradable dyes. Prêmio Eco Fashion Brasil is promoting the upcoming Brazil Eco Fashion Awards, a competition that awards Brazilian achievement within the global trend of ecodesign in the area of style of fashion.
In the Groups feature the members share their ideas and suggestions for how to bring about a sustainable world. The group Deu certo!, or It works!, is all about real-world solutions that help us all do our part for the environment. The following video was shared in the group's discussion forum and shows how to install a sink to maximize the usefulness of the water that's used to flush your toilet.
The Network Creator of Banco do Planeta has opted to modify the source code for the network. Among other changes, source code access has been used to add a box to upper right of the Main page that provides a link to network guidelines. The source code changes compliment the extensive appearance customization on the network. These changes include a custom animated logo in the header, custom logo in the footer, custom background image that flows from the top of the page into the background color and consistent application of their blue, green and white theme.
If you're interested in how we can work towards a sustainable planet make sure to check out Banco do Planeta.