Big buys on Sales Management 2.0
Ning Network Spotlight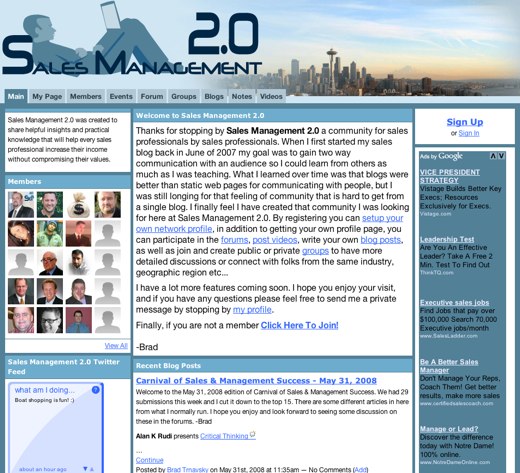 Sales Management 2.0 is a network "for sales professionals, by sales professionals." What started as a blog written by Brad Trnavsky is a now a full-fledged social network, with the goal of bringing sales professionals together to share ideas and advice.
As Brad states, "Blogs were better than static web pages for communicating with people, but I was still longing for that feeling of community that is hard to get from a single blog. I finally feel I have created that community I was looking for here at Sales Management 2.0."
Brad continues to blog regularly at Sales Management 2.0, and other members do as well — sharing thoughts on "how powerful are gatekeepers" and the "myth of long-term relationships." Other members keep the conversation going by commenting on blog posts and participating in the forum. With the forum's new category layout, it's easy to find where to ask general questions, comment on leadership and more.
So if you're a sales professional looking to connect with others in your field, check out Sales Management 2.0!