Boomers debate life after 40
Ning Network Spotlight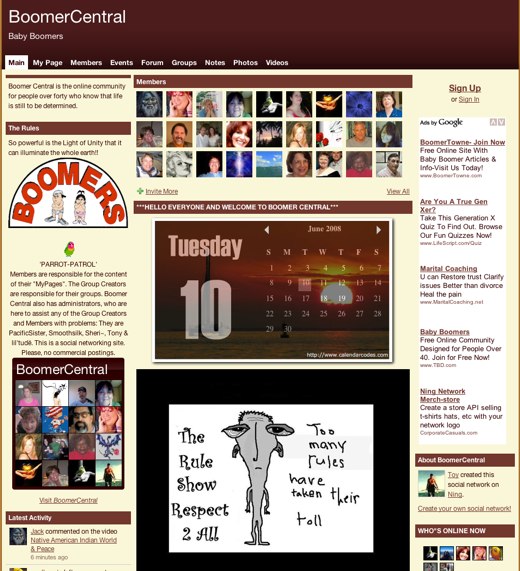 Life doesn't end at 40. Increasingly, social networking doesn't either — and BoomerCentral proves it.
The network, which has been around just more than four months, is a hub of Baby Boomer activity. It's a place for those born in the post-World War II years between 1945 and 1960 to laugh, cry and connect.
The more than 500 members of the network love to connect with one another directly. Many members' comment walls are plastered with comments, and by using the Latest Activity feed, Boomers can easily see who's talking to whom.
They may not be the youngest social networkers in the world, but, for these members, it's all about attitude. The most popular group on Boomer Central is Never Growing Up!, with Boomerette Beauties following a close second. Of course, these social networking gurus are no strangers to technology either — the Computer, Technology and the Internet group has more than 50 members.
Of course, Boomers have no lack of things to talk about, and it shows on the forum. The discussions range from the lighthearted "Old naked guys ride through DC on bikes for the environment" to the very lighthearted "Mad Wife Disease."
So if you want to join your fellow Boomers, you know the place. Just don't forget to bring your sense of humor!