Bringing conflict simulation gaming to life
Ning Network Spotlight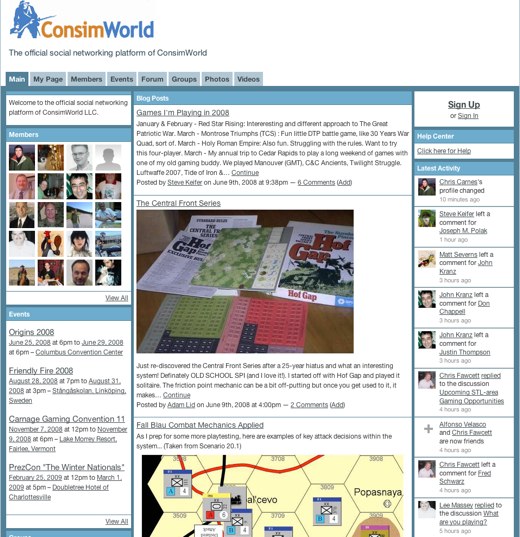 With thousands upon thousands of videos games, gamers have a lot of choice these days. But for a select few, conflict simulation gaming is where it's at — and ConSim World is no exception.
Already, the network has amassed more than 700 gaming gurus. An extension of ConSim World LLP, the network attracts conflict simulation gamers from around the world. The Network Creators have even taken steps to integrate the network with the main ConSim World site, running it off a subdomain of consimworld.com and placing a "Social" tab on the main site.
Blogs are one of the most popular features on the network. Placed prominently on the network's main page, members take advantage of the ability to highlight their own work by writing about everything from games they are playing to using the discussion to gather feedback for games that are currently being built from scratch by talented members.
What members are playing is always a hot topic. Aside from mentioning it in blog posts, the "What are you playing" discussion is the most popular on the network with more than 175 replies. Combat Commander and Deluxe Bitter Woods are popular choices, of course. Members have also used the forum to debate the ins and outs of solitaire.
If conflict simulation is your thing, lock, load and head on over to ConSim world.