Checking the shelves at Library 2.0
Ning Network Spotlight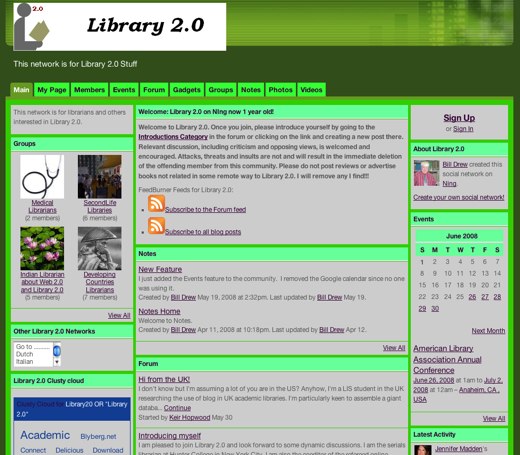 Ever gone to your local library and been frustrated that you can't find that book you've been dying to read? Now there's a solution.
Meet Library 2.0, the network for librarians interested in the digital movement  for libraries and changing the way we receive and collect data using social networking tools. Library 2.0 is a collection of libraries, librarians, and book vendors who are completely changing the way we think about going to the library for research or recreation.
Once you check out Library 2.0's forums you can see the proactive approach members have on learning and improving their own local library. Take Network Creator Bill Drew–after being  appointed Interim Library Director at Tompkins Cortland Community College, he's been instrumental in the renovation of his school's Learning Commons which will include tutorial services, academic computing administered computers, brand new media center, and even a coffee shop.
Even new members like Luis Interiano discuss the limitless possibilities of Library 2.0 today in the blog. The goal for Luis and other librarians is to 'use the work-multiplying, instant access, and distance-bridging power of the computer to achieve change in a short period of time, with a small staff, and a small budget.' If this gets you excited about heading down to your library, or if you're interested in changing the way we use our libraries join the Library 2.0 revolution today!